If you are a regular reader of our blog, then you have likely heard us talk about how trade show booths can benefit from retractable banner stands. It is easy to forget that there are also non-retractable banner stands. These banner stands are ideal for high-traffic areas and are typically more cost-effective than retractable banner stands. A type of non-retractable banner stand that is growing in popularity in the signage industry is X-banner stands. And, for the month of June, The Sign Studio is offering FREE X-stand banners with every order over $100 (just for June 2016). Let's learn more about this signage option.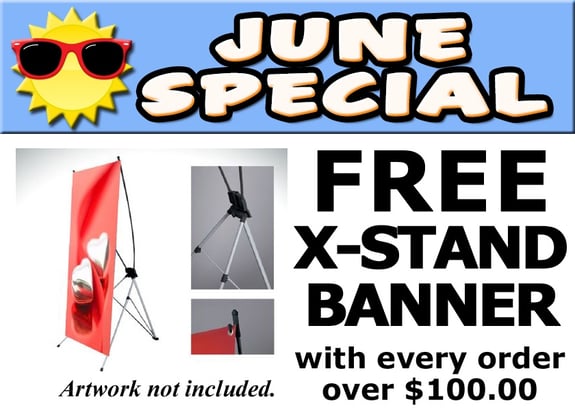 How Do X-Banner Stands Work?
Commonly known as X-frame stands, X-banner stands are made up of an X-shaped frame and a rectangular banner, which is usually printed on vinyl or fabric. The banner is stretched tightly and the four corners are attached to the four points of the X frame. It gets the support it needs to stay upright from a fifth pole that protrudes from the center of the X. X-banner stands can adapt to any terrain thanks to the extendable legs.
X-frame stands are one of the most convenient and affordable methods for displaying your company's banner due to their portability and design. To make certain your graphics look like new everywhere you go, we only use heavy-duty materials in the construction of these stands. Common materials we use are metal, PVC, and bamboo.
Why Your Organization Needs X-Banner Stands
Why are X-banner stands taking the sign industry by storm? It is because they exhibit the following qualities:
Innovative, Trendy, and Allow You to Experiment – The great thing about X-banner stands is that they can display an array of banners. This allows you to cater to specific events without having to purchase all new displays.
Easy to Set up and Move – It is extremely simple to set up an X-frame stand. Most have a central hub and five poles. You put the ends of the poles in the hub then attach your graphics to the frame. You can have your exhibit set up within minutes. Exhibits that can be set up by one person are necessary if you have limited staffing for your event.
Inexpensive – Even if you are not getting them for free, compared to most other tradeshow displays, X-banner stands are incredibly affordable. This means you will have more money left over for vibrant, full-color graphics or other elements.
Can Be Used Everywhere – X-banner stands are truly flexible when it comes to placement. You might consider putting your X-frame stand on sidewalks, on counters, in lobbies, in school hallways, or on tabletops.
Lightweight and Portable – Whether you are traveling by car, bus, or train, it is easy to bring your X-banner stand with you. Transporting these marketing solutions is virtually effortless. They are a lifesaver if you are traveling by plane to an event.
We offer X-banner stands in Los Angeles, Burbank, and Glendale. If you are interested in taking advantage of our June special, contact the friendly professionals at Blue Barrel Signs today for a free consultation.