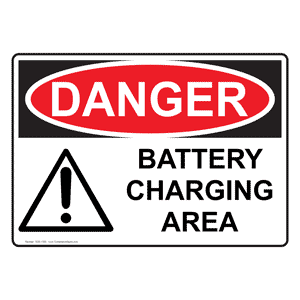 The safety of both guests and workers are threatened by the many prospective electrical hazards found in most workplaces. As a matter of fact, in workplaces around the country each year, 300 deaths and 4,000 injuries can be attributed to electrical hazards. You may need to caution employees about grounding and static risks, shock and voltage hazards, or battery charging dangers if your facilities include electrical equipment.
You can help keep your organization free of accidents and improve workplace safety by introducing safety signage that reminds workers of proper electrical safety procedures. Fortunately, The Sign Studio is here to provide you with electrical safety signs in Los Angeles.
Types of Electrical Safety Signs
At The Sign Studio, we can produce just about any signage you can imagine. We get the most requests for the following types of electrical safety signs:
Battery Charging – We are a popular supplier of battery charging safety labels and signs. Each of our markers is ANSI and OSHA compliant. We offer danger and caution signs featuring easily recognizable symbols for battery charging.
Call Before Digging – These are available in a wide array of formats. Most of our standard options feature the national 811 Call Before You Dig number. We also have electrical safety decals for Los Angeles that clearly label where utilities are buried.
Voltage and Shock Hazard – We offer several labels and signs related to electrical hazards, such as voltage and shocks, battery charging, solar and wind generated electricity, and grounding and static. In 2012, there were 156 workplace deaths involving contact with an electrical current. Do not add your facility to the list.
Alternative Energy – The stylish and heavy duty way to communicate electrical hazards associated with wind power and solar power equipment is with our engraved plastic alternative energy electrical safety markers.
Electrical Pipe and Conduit Markers – Reduce potential liability for your company and create a safer work atmosphere with our simple to understand electrical conduit and pipe markers. We can help you properly identify the contents of electrical pipes and conduits in accordance with ANSI Z535.1 standards.
Arc Flash – To help protect employees, we supply several PPE information and arc flash warning signs. All of our signs come in English, Spanish, and bilingual language alternatives. There are also options in other languages as well.
Buried Cable Utility – Our labels are sized to fit standard utility marker posts and meet APWA color guidelines. Our markers warn of fiber optic and electric cables. They also include spots for your contact information.
Static and Grounding Signs – We have signs relating to drums, ESD warnings, ground wires, and more. Some of our markers include "Caution: Attach Ground Wire Clips," "Caution: Static Sensitive Devices Do Not Enter without Grounding Device," and more.
These are just some of the solutions we offer. We can even customize your signs to include your company logo and other branding. To learn more about what we can do for your organization, contact the friendly professionals at The Sign Studio today for a free consultation and quote.