Why A Sign Is So Important For A Business | Los Angeles Sign Comany
The ability to generate sales will make or break your business. However, before you can make those sales, you need to generate a consumer interest in your company's products or services. The way generate such an interest is with a solid marketing plan. While many elements of a marketing plan will change to match the zeitgeist, one will not: Your signage is a critical way to market to consumers in a quick, effective way. But why? This article will take a look at what makes a good sign so important for the success of your business.
Good signs can deliver a message without getting in the way
The problem with most outbound (ostensible) marketing solutions such as television advertisements and popup internet ads is that they get in the way. Commercials are commonly known as a blockade between viewers and their shows, and users want to view the content that led them to the website in the first place -- not the ad popup that block their ability to do so. A good sign, on the other hand, is a borderline inbound marketing (consumer-friendly) resource, since it brings them closer to your brand without being intrusive.
Good signs work fast
A good sign will do one of two things (if not both): it will either direct consumers to the nearby location of your business, or it will provide them with instant access to communicate with your company. This feeling of fast access to your company will make a customer comfortable going to you.
Signage is a medium that requires little maintenance, updating or changes
Most elements of your company's marketing plan, including the most successful ones, will require tweaks, updates and major changes to remain fresh, up to date and compatible with the latest technologies. Well-made signs, on the other hand, require none of this. Unless your company;s logo, colors, contact info or offerings change, there is no need to update your signs once they are erected.
Also, since a physical sign requires no software updates or design language changes, you won't have to do anything in that regard either. The little maintenance that you will have to engage in mostly involves making sure your sign is clean.
A good sign can change a person's mind
Sometimes a consumer is looking for a specific type of product or service, but they feel like it is too much of a "hassle" to find a company like yours; sometimes a customer will already have another company in mind for offerings like yours. If it is good enough, your sign can change the minds of these people. For instance, if a customer trying to avoid the hassle of searching for a business sees your sign, they could literally drop what they are doing and pay you a visit.
A good sign grabs people's attention without you
Another great benefit of a good sign is that it will catch the attention of consumers without you having to do any extra work. This means that you are essentially enacting a 24/7 marketing tactic that works for you even while you are sleeping.
Bottom line: A good sign will exponentially increase your company's number of sales leads. Not utilizing this tool would be a huge business blunder that you can't afford to make. The first step to obtaining a new business sign that will bring in more business opportunities is to find a good sign company. If you are looking for sign services, contact The Sign Studio.
They are a team of business sign experts who can deliver the signage you need to grow your business. For further information please call (818) 843-9200 or send an e-mail to Info@SignStudioLA.com.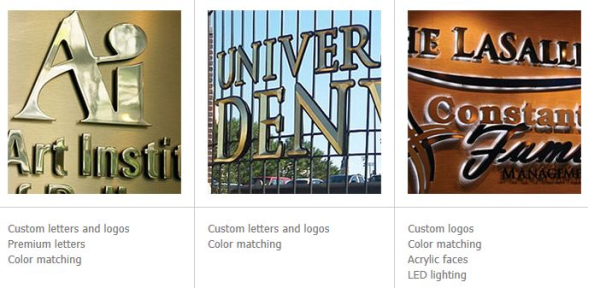 Signs, Banners, Electrical Signs, ADA Braille/Tactile Signs, Electrical Illuminated or Non Illuminated Signs, Inside/Outside or Exterior/Interior Signs, Lobby Signs, Directional or Wayfinding Signs