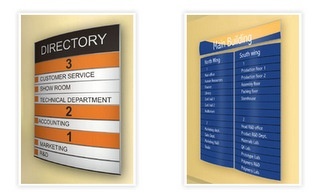 It takes an artistic eye to create an effective wayfinding system. In addition, the ideal program also requires time and attention to detail. You need careful observation, smart questioning, and an awareness of a facility's visitors, surroundings, customers, residents, and staff in order to deliver effective results. Thankfully, The Sign Studio has plenty of experience supplying many different kinds of architectural wayfinding signs for Los Angeles. In this entry, we will look closely at some wayfinding options.
Flat Insert Signs
One of our most requested indoor wayfinding solutions is modular flat insert sign systems. To create easy to change sign systems, these markers have combined the simplicity of paper inserts with the structural integrity of extruded aluminum and injection molded plastic components. This is done with no cumbersome components or visible fasteners. We can supply you with inserts made of zinc, photopolymer, engraving stock, acrylic, and other materials, or you can print out your own inserts.
These signs can be integrated into your existing signage system and they are ADA compatible. Versatility is what really sets flat insert signs apart. They are perfect for permanents signs or for markers with constantly changing information.
Freestanding Paper Holders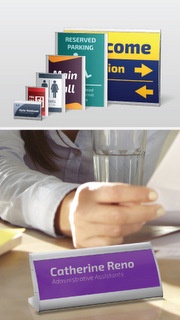 If you are in need of changeable architectural wayfinding systems in Los Angeles, freestanding paper holders are an excellent solution. Our frameless, flexible display fixtures come in a wide variety of sizes and formats. Just about any situation can be served by these adaptable markers. Create high impact graphics using nothing more than your office printer and a few sheets of paper.
Paper holders are ideal for indoor use wherever distinctive signs are required and copy and graphic changes are inevitable, including:
Hospitals and clinics
Corporate offices
Motels, hotels, and other hospitality facilities
Office buildings
Food service operations
Malls and retail stores
Theaters and arenas
Churches
Museums
And more!
Post and Panel Signs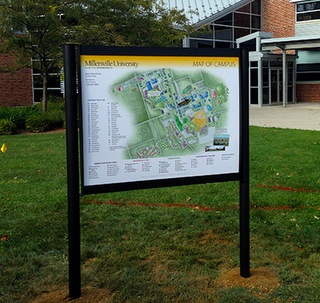 You will not only guide guests on your property, but you will also showcase your branding with our post and panel systems. They are adaptable enough to allow you to create an attractive exterior environment for customers and employees alike, maintain graphic continuity, and to present a professional and polished appearance.
You can announce your property and invite in visitors with primary identification markers at your entry points. Multi-panel directional signs will show visitors where to go, while flag-mounted single-panel signage is perfect for speed limit indicators. Locations and services are easy to find and employee and guest parking areas are designated with ground-mounted and wall-mounted single-panel and multi-panel signs.
With post and panel signs, there are several different alternatives to pick from, including crossbars, custom panels, and custom post caps. It is simple to update information as it changes with multi-panel markers as they easily slide in place.
These are just a few of the architectural signage systems we offer property managers, business owners, and developers. If you are unsure about how to make your building easily navigable, we are more than happy to offer our recommendations based on years of experience. Contact The Sign Studio today for a free estimate and consultation!