If you read our blog regularly, you may have noticed that we have gone a little "engrave crazy" in recent weeks. We can't help it! Our new laser engraving capabilities are already helping several businesses in the Los Angeles area, and we want to get the word out about how we can provide affordable solutions for your enterprise as well. Today, we are going to take a closer look at laser engraved architectural frames for offices in Los Angeles.
Molded Plastic Frames
If you are looking for a high-quality interior sign system, look no further than molded plastic architectural frames. They come in a wide variety of styles. There are square and round corner systems. You can choose from seven matte colors, such as medium gray, brown, almond, black, arch brown, white, and gray.
The molded plastic frames are designed to work with their own engraved plastic snap-in plate, or they can accommodate any sign material between 1/16" and 1/8" thick. All of the frames have 1/8" thick walls, a half-inch outside depth, and they have mounting holes for easy attachment to your walls.
Desk bars are also available in the same colors as the other molded plastic frames. However, they are designed as simple architectural counter signs or nameplate holders. They are one-inch thick with an inside dimension of 1.75" by 9.125", which is perfect for our injected molded plate to fit right in there.
Anodized Aluminum Frames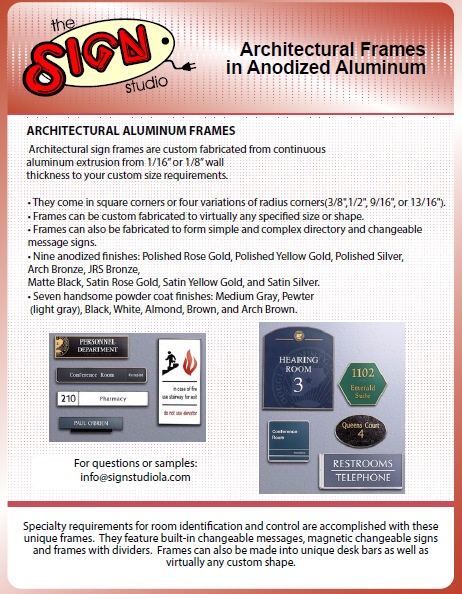 Anodized aluminum architectural frames also come with several options. Again, you can choose from square corners or from one of the four different radius corners. They come in just about every shape or size. Our aluminum frames are ideal for engraved changeable message signs or for complex and simple directories.
They come in nine anodized finishes, like arch bronze, polished yellow gold, satin yellow gold, matte black, satin silver, satin rose gold, JRS bronze, polished silver, and polished rose gold. But, that's not all! You can also pick from seven powder coat finishes. We are talking about brown, white, pewter, arch brown, almond, black, and medium gray. There is sure to be a solution that perfectly complements your interior décor!
Molded Plastic Plates
What good are frames if you don't have the engraved plates to put in them? We, of course, have those for you too. We can engrave just about anything, but for ease of use with the above architectural frames, we have standard sizes that can snap right in or out. Or, we can mount your plate permanently with strong two-sided tape.
We perform two-ply engraving, where fourteen surface colors and seven core colors are combined for a quality contrasting engraved plate that will meet the standards set out by the ADA.
Are you unsure about what is right for your building? No problem! Our experts are more than willing to sit down with you and discuss what solutions are best for your organization. We take your budget, venue, and vision into consideration before making recommendations.
For a free consultation on laser engraved architectural frames for offices in Los Angeles, contact The Sign Studio today!