Banners Attract Customers and Grow Sales from Sign Studio LA
You can get your message out to the public in a manner that grabs their attention and familiarizes them with your business on banners. This is a great way for you to introduce yourself to the community in an affordable and effective manner. Banners can be displayed both indoors and outdoors without much concern over weather conditions. Whether you decide to display indoor banners or outdoor banners, the banner installation process is extremely simple. They are versatile and you have the ability to display them in a manner which works best for your needs. Banner installation can be done so they display vertically or horizontally, as well as hanging or be portrayed in stands.
Benefits of Indoor Banners
Indoor banners will help you attract new customers and increase your sales without much added effort on your part and with minimal expense. Each and every day banners are seen and reacted upon countless times. They will help you to create brand awareness, advertise specials, promote up and coming events, and draw new customers into your shop, booth, or business location.
Benefits of Outdoor Banners
The banner installation process for outdoor banners is much simpler than many think. These banners will draw immediate attention to your business and help your name to stick in their mind. One of the great things about outdoor banners is they can call attention to your business from a great distance and this means you can get new customers who may not have learned of your business any other way. Outdoor banners are designed in a manner which allows them to withstand a good amount of harsh weather conditions.
Custom Banners
Custom indoor banners and outdoor banners allow you to display your logo in a large manner. You can also include the message you want to get out to potential customers. You will be able to choose from a variety of styles, shapes, sizes, colors and designs. This gives you the ability to display banners that get the message out to the public in the manner you want. You can go simple with a polyester pennant string or you can go big with a large banner with a huge logo or message. Either way, the banner installation process is simple and your message will be seen by many. When you get a custom banner you will begin to see fantastic results as new customers take notice and begin to act upon the attention your banner is causing.
Choosing the Right Banners for Your Needs
When you are looking for indoor banners and outdoor banners, you want to go with a company you can count on to get your message across. This is why you should contact The Sign Studio where you will receive excellent service from Julie, Bill, and Chris. This team is dedicated to offering indoor banners and outdoor banners that help companies to grow their customer base and get their name out there. You will quickly see what it is that has made the team at The Sign Studio the obvious choice for so many and a great choice for your banner needs. They help you with everything from the beginning stages of designing your banner to banner installation. They do this all while being more than helpful and going that extra mile to make sure you are pleased.
For further information please call (818) 843-9200 or send an e-mail to Info@SignStudioLA.com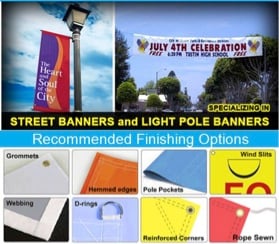 The Sign Studio also specializes in the following:
ADA Signs, Banners, Sign Company, Restroom Signs, Parking Signs, Handicap Signs, Large Format Printing, Logo Design, Coroplast Signs, Aluminum Signs, Exterior Signs, Interior Signs, Lobby Signs, Electrical Signs, Vehicle Magnets, Mesh Banners, Heavy Banners, Back-lit Signs & Prints, Sign Installations, Sign Maintenance, Sign Permits, Architectural Signs, Pole Signs, Monument Signs, A-Frames, Traffic Signs, Digital Print Signs, Construction Signs, Sandblasted Signs, Real Estate Signs, Trade show Signs, POP Signs, Metal Signs, Window Lettering, Sign Fabrication, Dimensional Sign Letters, Light Boxes, Vinyl Letters, Channel Letters, Menu Boards, Cast Bronze & Aluminum Metal Plaques, Acrylic Signs & Letters, Regulatory Signs, Warning Signs, Street Signs, Specialty Signs, Outdoor & Indoor Signs, Evacuation Maps & Signs, Braille Tactile Signs, OSHA Compliant Signs, School Signs, Project Signs, PVC Signs, Post & Panel Signs, Sign Service & Repair, Graphic Design, Directory Signs, Wayfinding Signs, Handicap Signs, Exit Route Signs, Electrical Rooms Signs, Code & Safety Signs, Pylon Signs, Retail Signs, Retractable Banner Stands, Banner Frames, Step & Repeat Banners, School Signs, Fire Extinguisher Signs, Modular Signs, Danger Signs, Warning Signs, Cabinet Signs, Commercial Signs, Industry Signs, 3D Signs, Los Angeles County Sign Company, Burbank Sign Company, Glendale Sign Company, Pasadena Sign Company, Title 24 Signs